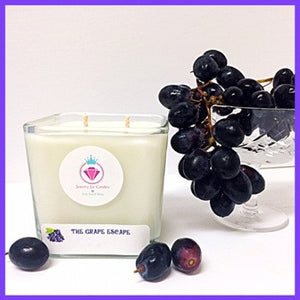 THE GRAPE ESCAPE RING MADLE
Regular price $26.99 Sale
Jewelry
Fragrance
This fragrance is all things purple and fun! The smell reminds us of grape candy and childhood - a sugary, sweet purple grape scent. Robust, plump concord grapes blended with sun-ripened berries.

Jewelry?
Man Candles with RINGS!! Now Men can experience the anticipation, the excitement, the overwhelming joy of discovering Bling! Choose your own size 9-13 from our extensive collection of Heroes and Villains, Plain Bands, Stylish/Patterned or choose Surprise Me! Titanium, Stainless Steel and Sterling Silver Rings valued from $10-$5000! What will you discover in yours?!?

Protection?
Our Jewelry is wrapped in a protective bag and then put in foil for double protection.

Appraisals?
You will receive a slip of paper in the protective bag with your jewelry appraisal.
Shipping
*All orders are made fresh and generally ship within the week. During peak times this may take a little longer.

(Within Canada)
$1 - $99.99 = Flat rate of $10.00

Free Shipping on orders of $100.00 or more

*We use Expedited Shipping through Canada Post. The night before your order is shipped, you will receive a tracking number.

(Within the U.S.A.)
*All rates are in Canadian Dollars

$1 - $74.99 = Flat rate of $15.00

$75 - $129.99 = Flat rate of $10.00

$130 + = Free Shipping

*Anything 1kg and under we use Tracked Packet U.S.A.
*Anything over 1kg we use Expedited Parcel U.S.A. *You will receive an email the night before your order is shipped with a tracking number.
Ingredients
Candle Size?
All of our candles are 11 ozs.

Wax?
100% all natural soybean wax for a cleaner burn.

Wicks?
Braided, pure cotton double wicks.

Fragrance
Non-toxic fragrance oils.

* Hand made to order in Canada. Never pre-made to ensure freshest long lasting scent.
*Trim your wicks after each use.
*Don't burn a candle all the way down. As a margin of safety, stop burning a candle when only a ½ inch of wax remains.