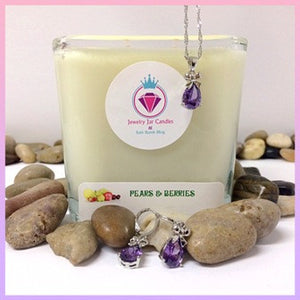 PEARS & BERRIES, THE PERFECT PAIR
Regular price $33.99 Sale
Jewelry
Fragrance
Enjoy this fruity fresh blend of ripened pear, raspberries, strawberries and gooseberries.

Jewelry?
The "Perfect Pair" JewelryJarCandle! MATCHING Necklace and Earrings hidden separately in one candle valued up to $5000! Our Perfect Pair Jewelry is 925 Sterling Silver(if valued under $300 they have a solid Sterling Silver base) ! Matching jewelry for your ears and neckline. Are you ready for stunning? It's time.

Protection?
Our Jewelry is wrapped in a protective bag and then put in foil for double protection.

Appraisals?
You will receive a slip of paper in the protective bag with your jewelry appraisal.
Shipping
*All orders are made fresh and generally ship within the week. During peak times this may take a little longer.

(Within Canada)
$1 - $99.99 = Flat rate of $10.00

Free Shipping on orders of $100.00 or more

*We use Expedited Shipping through Canada Post. The night before your order is shipped, you will receive a tracking number.

(Within the U.S.A.)
*All rates are in Canadian Dollars

$1 - $74.99 = Flat rate of $15.00

$75 - $129.99 = Flat rate of $10.00

$130 + = Free Shipping

*Anything 1kg and under we use Tracked Packet U.S.A.
*Anything over 1kg we use Expedited Parcel U.S.A. *You will receive an email the night before your order is shipped with a tracking number.
Ingredients
Candle Size?
All of our candles are 11 ozs.

Wax?
100% all natural soybean wax for a cleaner burn.

Wicks?
Braided, pure cotton double wicks.

Fragrance
Non-toxic fragrance oils.

* Hand made to order in Canada. Never pre-made to ensure freshest long lasting scent.
*Trim your wicks after each use.
*Don't burn a candle all the way down. As a margin of safety, stop burning a candle when only a ½ inch of wax remains.