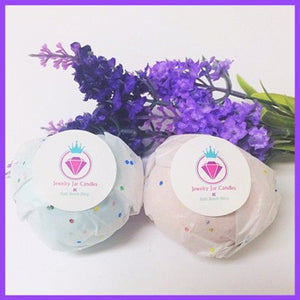 LAVENDER BATH BOMB
LAVENDER IS ONE OF THE FRESHEST AND MOST VERSATILE FLORAL SCENTS.  IN FACT, IT IS KNOWN IN AROMATHERAPY CIRCLES FOR ITS SOOTHING AND CALMING EFFECTS. SO IN ADDITION TO LEAVING YOUR SKIN SOFT AND SILKY, OUR LAVENDER BATH BOMB CAN HELP YOU RELAX AFTER A LONG AND BUSY DAY!
*All bath bombs are approximately
95 grams
*As all of our products are individually hand-
made, not all shades of colours may be identical.
*products are non returnable, non refundable and
non exchangeable so please select carefully.
*Please note: any and all of our ingredients that we
use for/in our products are for bathing/body purposes
or decorative purposes only and are not safe to be
consumed in any way.
*Avoid using products if you have skin allergies,
skin sensitivities or open cuts/wounds on the
skin. Consult your doctor if you have concerns
about medications that you may currently be taking
prior to using our products.
*Keep our products out of the reach of children and
pets. Jewelry Jar Candles is not responsible for any
personal health, allergies or mishaps from using our
products.
*Never leave a child unattended in the bathtub.
*Due to the delicate nature of children's skin, our
products should only be used on children who are
not skin sensitive and do not have any skin
allergies.