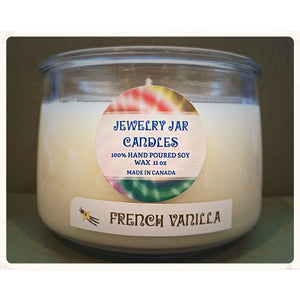 JEWELRY JAR CANDLES, CANDLE ONLY, FRENCH VANILLA
Regular price $21.99 Sale
INDULGE IN THE BEST SELLING AROMA OF FRENCH VANILLA! THIS RICH, CREAMY AROMA IS ENOUGH TO DRIVE ANY SWEET-TOOTH WILD!
JUST THE CANDLE, NO RING
*100% all natural soybean wax for a cleaner burn.
*Hand made to order in Canada. Never pre-made to ensure
  freshest long lasting scent.
*Braided, pure double cotton wicks.
*Non-toxic fragrance oils.
*Soy-wax has a memory and should be allowed to achieve a
  full melt pool on its very first burn.  If it is extinguished prior
  to allowing a full melt pool, all subsequent melt pools will
  not go passed the first one.  Once your candle has reached its
  full burning pool, we recommend burning your candle for no
  longer than 4 hours.
*Candles should never be left unattended and kept out of reach
  of children.